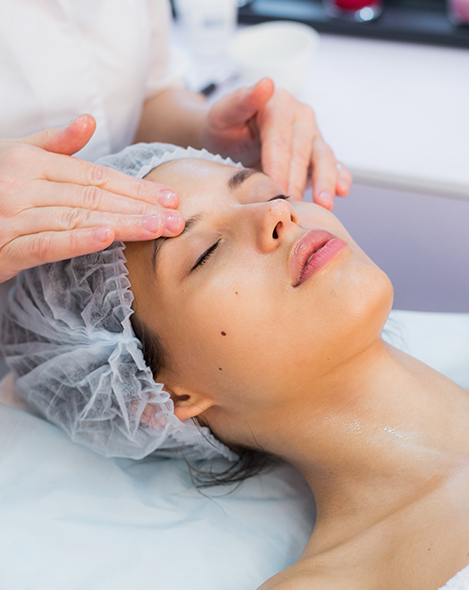 Anti-Aging Platinum Facial
(90 Mins – $600).
The exceptional anti-aging treatment from the chest up. Indulge in the ultimate experience resulting in youthful, dewy, radiant skin. This 90 minute facial combines the key benefit factors from various facials into ONE treatment! This includes the face, neck AND décolletage with Microdermabrasion, followed by the LightStim® LED light treatment and lastly we add a chemical peel that is tailored to suit your skin type, applied to all 3 areas! Your skin will reap the rewards long after you've gone home! ($200 savings)
(60 Mins – $300)
Poof! Get rid of acne and annoying breakouts. This facial is perfect for those with acne, blackheads and general skin congestion. The galvanic current will gently open your pores and saponify those stubborn blackheads. There is also additional time for extractions and an amazing purifying gel masque with cooling menthol that combines the benefits of camphor, rosemary and tea tree oil to deep cleanse and soothe oily and or blemish-prone skin.
Completely Customized Facial
(60 Mins – $250)
The "whatever my skin needs"! Allow me to analyze your skin and create a highly customized plan to satisfy all your skin's cravings!
Dermaplaning Smooth
as Glass Facial
(60 Min – $275)
Looking for peach fuzz free skin that shines as bright as a diamond, feels smooth as glass, allows deeper skin product penetration and flawless makeup application? This deeper form of exfoliation will remove vellus hair (peach fuzz) and dead skin cells at the same time, and no it won't grow back thicker!
Dermaplaning with
LightSTIM® LED
(90 Min – $375)
Achieve the ultimate peach fuzz free skin that shines as bright as a diamond & feels smooth as glass PLUS tighter and younger! By adding the LightStim™ LED light to this facial, you will revolutionize your skin and diminish fine-lines!
Dermaplaning with Brightening
& Texture Rehab Enzyme
(90 Min – $350)
Achieve tighter, brighter, flawless skin with this irresistible treatment! By resurfacing the skin with dermaplaning you will experience a radiant glow, while accelerating recovery and a more even skin tone. This treatment includes a natural enzyme peel that will enhance your dermaplaning and exfoliating results in the most gentle manner possible!
(60 Min – $275)
Our all natural & holistic facial! Guasha is an ancient Chinese method that imparts circulation and decreases wrinkles, giving your skin a gorgeous glow and more youthful appearance. It achieved this by using an authentic jade stone to massage the skin and move lymph, removing visual puffiness. This facial is suitable for everyone, including expectant and breastfeeding mothers.
Microneedling Standard Treatment
(60 Min – $450)
FDA approved microneedling devices with a unique, needle plate and patented safety membrane for powerful and precise skin punctuation. The SkinPen and EXCEED devices are both state-of-the-art medical devices that deliver outstanding results in safety and beauty. We use a potent hyaluronic acid serum that will plump and lift your skin!
LightSTIM® LED Love My Skin
(60 Min – $250)
Achieve tighter, brighter, flawless skin. At Studio 17, we bring you the absolute best of the best, professional grade LightStim™ 4 panel LED light. The LightStim panel light boasts the most efficacious yet gentle lights in the industry! After extractions, the LED light will be applied to the skin. LED is great for acne as this light panel is FDA cleared to treat BOTH mild to moderate acne, and fine lines and wrinkles! It also minimizes the appearance of pores, calms and reduces redness, produces a radiant glow, helps to accelerate recovery (perfect when combined with dermaplaning, microdermabrasion, peels, injections or microneedling), all while helping to promote a more even skin tone.
DiamondGlow® Skin Resurfacing Treatment
(60 Min – $315)
The DiamondGlow® facial works by exfoliating, extracting and infusing specific serums designed to target each layer of your skin! See results from the first treatment and improvement over time with multiple sessions!
Ultra-Hydrating – Improves overall skin hydration, reduces appearance of fine lines and wrinkles, and helps replenish skin's moisture reservoir.
Vitamin C- Gives antioxidant protection, enhances skin radiance and tone, and helps even overall skin tone.
Skin Brightening- Helps reduce appearance of skin discoloration, and helps brighten overall skin tone for a healthy glow.
Pore Clarifying- Clarifies skin appearance and pores, smooths skin texture, and minimizes the appearance of pores.
TNS A+ – the #1 anti-aging serum available!
(60 Min – $385)
Same added benefits of the standard DiamondGlow® facial with an added BOOST with the SkinMedica® Illuminize peel.
Sensitive Skin Calming & Hydrating Facial
(60 Min – $250)
Don't shy away! If you have sensitive, red or extra dry skin, now you experience incredible results without fear of irritation. This facial utilizes gentle but highly therapeutic ingredients to repair and promote healthy skin. These products have been dermatologist tested and proven to be effective yet gentle to address the needs of sensitive skin. They are clean and pure products that do not contain ingredients known to be sensitizing or allergenic, which include Anti-aging for Sensitive Skin products and is the only professional brand to focus exclusively on treatment and homecare products for sensitive and health-challenged skin.
Book a Facial at Studio 17
(45 Min – $200)
Bringing sexy back! If you're experiencing back acne or just looking for a deep cleanse with extractions, this treatment will target all problem areas. Add a back microdermabrasion and or a back peel to this treatment to lighten those dark spots and send stubborn back-ne packing!
Back Facial with Microdermabrasion
Back Facial with Microdermabrasion & Chemical Peel
(50 Min – $225)
Only real men get facials! After this facial, you will leave with fresh, clean, and soft skin like you've never experienced before! This facial includes a deep, relaxing massage of the neck and shoulders.
*if shaving, kindly do so 2 days prior to your appointment*